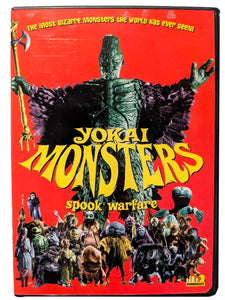 Yokai Monsters Vol 1 Spook Warfare (DVD, Region 1)
Regular price
$64.00
$0.00
Unit price
per
Hard to find original DVD is a cult classic hit and favorite among many!
This vintage Japanese horror movie centers around a peculiarly Japanese take on vampire lore. Here, a vampire demon named Daimon is awakened by thieves plundering his ancient tomb. The bodiless demon heads to Japan, where he takes over the soul of Lord Isobe, an important village land owner. Soon, Isobe is devouring fellow villagers, sending the area into a panic. However, one local man suspects the supernatural and consults the local Yokai, benevolent spirits, who agree to help save Isobe and the village from Daimon.
UPC 0702727061127
Format DVD
Genre Foreign Language
Sub-Genre Japanese
Rating NR
Condition: Very Good.
Review:  Amazing stuff
Yokai monsters is a japaneses horror movie trilogy intregrated by "spook warfare", "100 yokai" and "along with ghosts" excellent stuff, yokai is kinda the japanese word for "spectre" kinda a sub-genre in th ghost family integrated by such diverse characters as humanoid turtlr like spooks, ghosts of inanimated things like umbrellas and what not, i think the most likable aspect of this movies are the old schooll hand made special effects, kinda an artesanal value, highly recommended if you are looking for something different in your horror menu
---