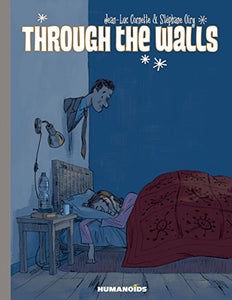 Through The Walls, Humanoids Graphic Novel by Cornette, Jean-Luc (HC)
Regular price
$25.00
Sale price
$29.95
Unit price
per
 A series of droll vignettes of everyday French life... except for the fact that each short story features one or more characters that have the very special ability of walking through walls, and through any other objects for that matter, which tends to "enliven" things quite a bit. These touching and humorous chronicles by the talented team of Jean-Luc Cornette and Stephane Oiry are full of the European sensibility seen in titles such as the Monsieur Jean series. Published here in its entirety and in the English language for the first time.
Author: Cornette, Jean-Luc
Binding: Hardcover
Number Of Pages: 96
Publisher: Humanoids, Inc.
Release Date: 13-11-2012
EAN: 9781594650185
Package Dimensions: 11.0 x 8.4 x 0.6 inches
Languages: English
Review: "I began it expecting a diverting trifle and came away with one of the entries on my best of year list. You can't really ask more of a book." - Forbidden Planet
About the Author: Born in 1966 in Belgium, Jean-Luc Cornette studied at Saint-Luc in Brussels. He began his career in Tintin Reporter and Spirou and as the colorist of Antonio Cossu, Philippe Foerster and André Taymans. He is also a prolific writer, collaborating with many artists including Karo on several short stories and volumes. He has also written three children's books illustrated by himself or by Jean-Marc Rochette and José Parrondo. Stephane Oiry is a French cartoonist who was born in 1970 in Nantes. After studying architecture in Strasbourg, he decided to pursue illustration and comics. He has worked in animation on the series "The Fly", in the press, and in children's books. In 2004, he founded the Cosmic Capsule magazine where he became deputy editor. Oiry was nominated three times at the Angoulême Festival for Through The Walls, Volumes 1 & 2 and A Life Without Barjot.
---