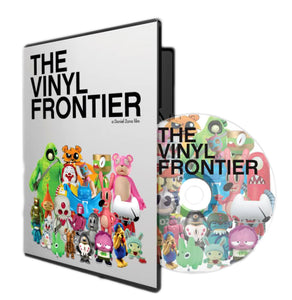 The Vinyl Frontier DVD - art toy documentary by Daniel Zana
Regular price
$20.00
$0.00
Unit price
per
The Vinyl Frontier a film by Daniel Zana At the dawn of the 21st century, renegade toy designers, bored with the G.I. Joe status quo, boldly remixed and reassembled the toys of their parent's generation. Birthing a new format of toy and medium of artistic expression, these artists were the first to explore The Vinyl Frontier. A world where Art is Fun! By exploring a landscape inhabited by a wide range of artists, their creations, and obsessive collectors, the documentary examines the hybrid objects' artistic and commercial value, as well as the creative process of art-toy making.
The Vinyl Frontier DVD Special Edition by filmmaker Daniel Zana. The Vinyl Frontier is a comprehensive look at a fresh and exciting art movement that anyone young at heart and imaginative can enjoy.The documentary features artists, scholars, and collectors such as: Paola Antonelli, Attaboy, Van Beater, Tim Biskup, Luke Chueh, Dalek, Tristan Eaton,Ron English, Ferg, Huck Gee, Thomas Han, Jim Koch, Frank Kozik, Haze XXL, Joe Ledbetter, MCA, Ferg, Van Beater, Brian McCarty, Dave Bondi, Bill McMullen, Tara Mcpherson, Gary Baseman, Sket One, Joey Potts, Jermaine Rogers, Bwana Spoons, and many many more.. 
This is The Vinyl Frontier special edition DVD. Along with the film, this DVD comes packed with tons of bonus content.
Special Features Include: · Artist & Director Commentary · 18 Vinyl Frontier Artist Spotlights · Q&A with Artists and Director Daniel Zana at Royal Flush Festival · Making a toy with The Sucklord · On Location with Brian McCarty · A look at Gary Baseman's Collection
The film is 4:3 fullscreen
Running time: 83 minutes
Format: NTSC DVD
Region: Playable in All Regions.
Author:

 

Daniel Zana
Binding:

 

DVD
Format:

 

Subtitled
Publisher:

 

Straylight Collective
Release Date:

 

01-12-2011
Package Dimensions:

 

7.1 x 5.4 x 0.6 inches
Languages:

 

English
---