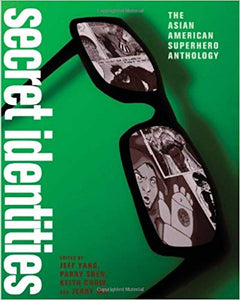 Secret Identities : The Asian American Superhero Anthology Book
Regular price
$10.00
$0.00
Unit price
per
"twenty-six original stories centered around Asian American superheroes"
A groundbreaking graphic anthology bringing together leading Asian-American creators in the comics industry. The glittering list of contributors includes Gene Yang, the National Book Award finalist for American Born Chinese (First Second, 2006), Bernard Chang, known for his work on Wonder Woman, Greg Pak of Hulk fame and Christine Norrie, author of Cheat (Oni Press, 2007). Each crafts an original graphic short story set in a compelling but shadowy moment in US history, from the building of the railroads to the Vietnam airlift.
There's this guy we know—quiet, unassuming, with black hair and thick glasses. He's doing his best to fit in, in a world far away from the land of his birth. He knows he's different and that his differences make him alien, an outsider—but they also make him special. Yet he finds himself unable to reveal his true self to the world. . . .
For many Asian Americans, this chronicle sounds familiar because many of us have lived it. But it also happens to be the tale of mild-mannered reporter Clark Kent, better known as Superman. And the parallels between those stories help explain why Asian Americans have become such a driving force in the contemporary comics renaissance as artists, writers, and fans.
Yet there's one place where Asians are still underrepresented in comics: between the four-color covers themselves. That's why, in Secret Identities, top Asian American writers, artists, and comics professionals have come together to create twenty-six original stories centered around Asian American superheroes—stories set in a shadow history of our country, exploring ordinary Asian American life from a decidedly extraordinary perspective. Entertaining, enlightening, and more than a little provocative, Secret Identities blends action, satire, and thoughtful commentary into a groundbreaking anthology about a community too often overlooked by the cultural mainstream. 
Publisher The New Press, T.H.E.
ISBN-10 159558398x ISBN-13 9781595583987
Format Paperback
Publication Year 2009
Language English
Weight 16.2 Oz
Size 10" x 8" x 0.6" inches
Illustrated Yes
Copyright Date 2009

Condition: Used/Read/Excellent
Author Keith Chow, Parry Shen, Jeff Yang, Jerry Massachusetts
Number of Pages 194 Pages
"Beyond awesome! . . . This book made me feel like I could leap over tall buildings in a single bound." Margaret Cho "Criminally overdue, but well worth the wait, Secret Identities is a treasure trove of an anthology. These stories are as rousing, uplifting, tragic, and funny as our deepest secret fantasies." Dwayne McDuffie, founder of Milestone Comics and writer of Justice League of America
"Wowee!!! What mind-blowing superheroes exploding out of the pages of Secret Identities ! As a kid who grew up on comics in the '40s and '50s, for the first time in my life, I recognized, identified, and became a comic book hero." George Takei
"These Asian American superheroes knocked me out! I wish I had known these superheroes when I was a kid--I'd have traded my entire comic book collection for this butt-kicking, death-defying, and brilliant anthology." Helen Zia, author of Asian American Dreams: The Emergence of an American People Lccn 2009-001536
---