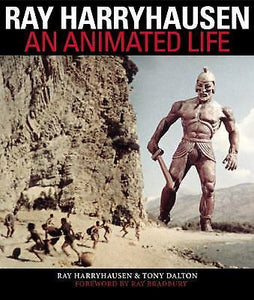 Ray Harryhausen: An Animated Life by Ray Harryhausen and Tony Dalton w/ Ray Bradbury Hardcover Book
Regular price
$60.00
$0.00
Unit price
per
Description: Large very heavy hardback book published by Billboard Books in 2004. The copyright page states that the book was first published in the US in 2004 by Billboard Books and the printing status bar is complete, making this a first printing. First published in 2003 in the UK.
Ray Harryhausen is arguably the greatest stop-motion animator in the history of motion pictures, blazing new trails in special effects from the 1950s to the 1980s creating realistic dinosaurs, fantastic aliens, and imaginative mythological creatures.
In the animator's own words, accompanied by hundreds of previously unpublished photographs, sketches, and storyboards from his personal archive, this book details Harryhausen's entire film career, from 20 Million Miles to Earth and Earth vs. The Flying Saucers to Clash of the Titans and Jason and the Argonauts.
In words and images, this book explains the basics of special effects and stop-motion animation, along the way telling entertaining tales of working with the film stars of the day, such as Laurence Olivier, Maggie Smith, and Lionel Jeffries. Film buffs will relish such revelations as how Raquel Welch was picked up by a flying dinosaur in One Million Years B.C., why the octopus in Mysterious Island was really only a sixtopus, and what Medusa's blood was made from in Clash of the Titans.
Publisher
Billboard Books - And Imprint of Watson-Guptill Publications, Incorporated
ISBN-10
0823084027
ISBN-13
9780823084029
Format
Hardcover
Language
English
Width
9.5in.
Length
11.5in.
Dewey Edition
22
Foreword by
Ray Bradbury
Publication Year
20040000
Dewey Decimal
778.5/345/092 B
Illustrated
Yes
Copyright Date
2004
Author
Ray Harryhausen, Tony Dalton
Number of Pages
304 Pages
Lc Classification Number
Nc1766.U52h374 2004
Publication Date
2004-04-01
Lccn
2003-110470
Ray Harryhausen: An Animated Life by Ray Harryhausen and Tony Dalton 2004 HC/DJ. The dust cover has some ripping but the book is in very good condition.Shipped with USPS Media Mail.
---