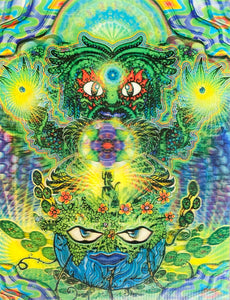 Nemo Boku's Green Man Magic Screen Lenticular Art Print
Regular price
$10.00
$0.00
Unit price
per
This pristine magic screen is a throw back to 2006 from visionary artist Nemo Boku. Recently uncovered a trove of prints and stickers provided by Nemo years ago and this one is perhaps my favorite because it's a magic screen that gives you a sense of movement and 3D illusion using Lenticular Printing.
Size approximately 5 x 6.5 inches
Reverse side is just as colorful and includes "The Spirit of Life" poetry by Nemo.
---