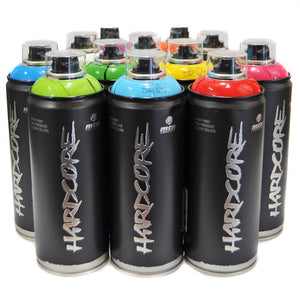 MTN HARDCORE 2 Spray Paint Colors (Set of 12 Cans)
Regular price
$99.99
Sale price
$120.00
Unit price
per
MTN HARDCORE 2 delivers only the finest aerosols and vibrant color spray paints designed for graffiti street artists and murals or all sizes.
Grab a set of the most popular 12 colors from the MTN Hardcore 2 spray paint line delivered to your front door.
MTN Hardcore 2 Spray Paint is a premier spray paint line that remains economical while surpassing the industry standard for what makes a great spray paint. MTN Hardcore was the first ever spray paint created explicitly for graffiti and mural art work. Developed with extensive testing and feedback from street artists, it boasts a breakthrough synthetic glossy formula and clean, precise application which has made Montana Hardcore famous all-over the world.

Hardcore 2 Spray Paint cans come equipped with a unique V-Touch female valve that's 100% compatible with all the caps in commerce. Forget about the overkill and the leaking problems. Need a certain skinny line? Prepared to take down a whole wall with one can? Hardcore 2 allows you to make it a reality, with coverage of up to 32 square feet. Consistent pressure allows for streamlined spraying and an even paint flow, which helps reduce skips, drips, and other nasties that impede a production. Works well on a variety of surfaces: wood, metal, concrete, glass and more! Included on the can is the patented Skinny Banana Negro Cap which is ideal for outlines.

Beef up your color selection! Buying spray paint by the set allows you to save money on paint and on shipping. It also allows you a variety of colors for more expressive results in any project.
MTN Hardcore 2 Spray Paint is compatible with the full selection of MTN Spray Caps (sold separately).
Colors may in included in this 400ml Spray Paint set are: Vivid Red, Light Blue, Orange, Electric Blue, Pistachio Green, Light Yellow, Purple, Magenta, Cologono N Green, Pearl Grey, Divinity White, and Black.
---