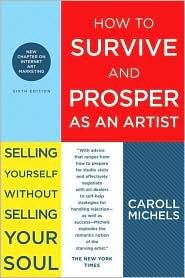 How to Survive and Prosper as an Artist / Selling Yourself w/o Selling Your Soul (6th edition)
Regular price
$20.00
$0.00
Unit price
per
New revised update of the classic handbook for launching and sustaining a career that "explodes the romantic notion of the starving artist," (The New York Times) with a brand-new chapter on Internet art marketing 
Now in its sixth edition, How to Survive and Prosper as an Artist is the definitive guide to taking control of your career and making a good living in the art world. Drawing on nearly three decades of experience, Caroll Michels offers a wealth of insider's information on getting into a gallery, being your own PR agent, and negotiating prices, as well as innovative marketing, exhibition, and sales opportunities for various artistic disciplines. She has also added a new section on digital printmaking and marketing in this emerging field. Most notably, this sixth edition contains an entirely new chapter: "Art Marketing on the Internet." Michels offers criteria for selecting an ideal Web designer for your online portfolio and for organizing your Web presence, and shares proven methods for attracting curators, dealers, and private clients to your site. She also addresses vital legal concerns in the age of e-commerce, including copyrighting and registering your art, and finally, the appendix of resources, consistently updated online at Michels's site the Artist Help Network, is fully revised.
Author: Caroll Michels
Binding: Paperback
Release Date: 01-12-2009
Details: Excellent Book Minimal Wear
Package Dimensions: 8.4 x 5.9 x 0.7 inches
About the Author:  Caroll Michels serves as a career coach and artist-advocate, and has helped thousands of beginning, mid-career and established fine artists launch and sustain their careers. 
She was featured in The 12 Secrets of Highly Successful Women: A Portable Life Coach for Creative Women by Gail McMeekin, M.S.W. (Conari Press:).
Michels served as the chairperson of the Fine Arts Advisory Board of the Fashion Institute of Technology in New York City, and was on the faculty of the New School for Social Research and the Ringling College of Art + Design, Continuing Studies and Special Programs, where she was a keynote speaker for the "Next Step Career Conference." Michels conducts career management workshops throughout the U.S.A. and in Canada.
Her artwork has been exhibited in museums in the United States and abroad, including the Georges Pompidou Museum in Paris; Haus am Waldsee, Internationale Kunst in Berlin, Germany; the Walker Art Center in Minneapolis; and Exit Art, and the Institute for Contemporary Art, The Clocktower in New York City. Michels has received numerous grants, including those awarded by the National Endowment for the Arts, the NY State Council for the Arts; the NY Council for the Humanities; and the International Fund for the Promotion of Culture/UNESCO. She was a fellow at the Alden B. Dow Creativity Center, Northwood University, in Midland, Michigan.
She is the founder of the Artist Help Network (www.artisthelpnetwork.com), a launching pad to help fine artists mine resources on career development and career challenges.
Caroll Michels lived in Manhattan for more than 25 years. She is now based in Sarasota, Florida, where, in addition to her work as a career coach and artist-advocate, she serves as chairperson of the board of trustees, Sarasota International Dance Festival (SIDAF).
---