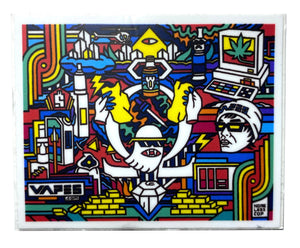 Homeless Cop "Vape Life" vinyl sticker design (2.5" x 2")
Regular price
$3.00
$0.00
Unit price
per
Vape Life sticker from the original painting for VAPES.COM by Homeless Cop, a self taught artist from Chicago known for his bold and vibrant caricature cartoon dystopian sharp edged line work found in his unique oil and acrylic paintings and video work in music videos and Adult Swim bumpers.
Size: 2.5 x 2 inches on heavy duty vinyl.
Original oil painting is available, please message for more info and acquisition.
---