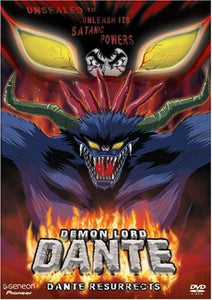 Demon Lord Dante - Dante Resurrects Anime Hentai DVD
Regular price
$20.00
$0.00
Unit price
per
Demon Lord Dante 1: Dante Resurrects DVD Episodes 1-4 of the anime directed by Kenichi Maejima. Ryo Utsugi has been disturbed by nightmares of being attacked by a gigantic, demonic creature with blood dribbling from its teeth. One day, he develops a mysterious power to hear voices and foresee horrifying images of females being killed. At a cottage in the wintry mountains, he hears the same voice... Ryo runs out of the cottage, jumps off a cliff following the voice, and gets transported to the Himalayas in a blink. There, he encounters the monster from his nightmare: Demon Lord Dante, who has been sealed in ice by God for 2000 years. Hideous murders, Satanists' black mass, the secrets of the Utsugi family... mysterious things await Ryo, who is transfigured into Dante.
"Although Demon Lord Dante (Maou Dante, literally Dante the Satan) wasn't animated until 2002, Go Nagai created the original manga more than 30 years ago. Teenager Ryo Utsugi is haunted by nightmares involving demons, nightmares that are linked to a string of grisly murders of young women. A sinister cabal is plotting to resurrect Dante, "a bigger devil than Satan." As the plot grows in complexity, it becomes increasingly hokey and unintentionally hilarious. A Satanist steals the Holy Grail (and a menorah) from a cathedral in Milan; Dante reveals he was Judas Iscariot; various Satanists appear as fish in an aquarium to discuss their problems; and God speaks directly to Ryo's father. Despite the prominence of Nagai's later work ( Devilman, Cutie Honey, Getter Robo, etc.), Demon Lord Dante ranks as part historical curiosity, part Golden Raspberry candidate. (Unrated: suitable for ages 16 and older: nudity, minor profanity, violence, violence against women, grotesque imagery, tobacco use)" - Charles Solomon
Special Features: Episode Highlights, Character Profiles, Textless Opening and Ending, Press Conference Clip, US Trailer, and Previews. Spoken Languages: English, Japanese
Brand: Geneon / PIONEER LDCA INC.

Binding: DVD
Format: NTSC
Region: 1
Condition: Used/Good
Running Time: 100 minutes
Release Date: 25-05-2004
Languages: English, Japanese
Ages 16 and up. Not for kids.
---