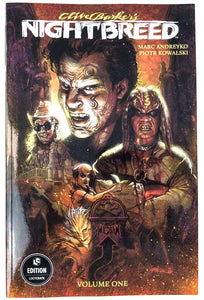 Clive Barker's Nightbreed Vol. 1 Graphic Novel Comic Book
Regular price
$9.99
$0.00
Unit price
per
What's to Love: Before Fables, before Once Upon a Time, Clive Barker created a secret city of monsters that live among us. Don't worry if you've never seen the film: Clive Barker and writer Marc Andreyko (Batwoman, Manhunter), along with Piotr Kowalski's gorgeous art (Dark Tower, Sex), have crafted a story for horror fans new and old.
What It Is: With Clive Barker's vision for Nightbreed finally released-Nightbreed: The Director's Cut-this series gives readers the untold histories throughout time for the monsters of Midian that fans have been craving.
The Nightbreed is a secret society of monsters and misfits that hide away from humans, but have been a part of this world since time immemorial. Explore both the past and the present of this clandestine tribe, unleashing new secrets and horrors as they fight to coexist with mankind. 
Author: Clive Barker
Volume: One
Edition: Lootcrate Exclusive Variant
Number Of Pages: 111
Publisher: BOOM! Studios
Languages: English

---