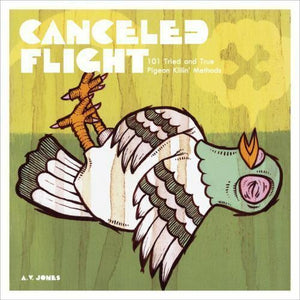 Cancelled Flight: 101 Tried & True Pigeon Killin Methods (A. V. Jones)
Regular price
$12.00
$0.00
Unit price
per
No one is certain when pigeon-loathing began, but the anti-pigeon phenomenon has by now insinuated itself into every medium of popular culture. Whether in film, television, music, or advertising, pigeon eradication has become an accepted way to tug at a person's funny bone. With Canceled Flight: 101 Tried True Pigeon Killin' Methods, A.V. Jones has created an Anarchist Cookbook of comic relief for the worldwide pigeon-hating population.

Conjured from Jones' twisted brain, 101 surefire methods for speeding a pigeon's journey to the grave are laid out for even the novice pigeon-despiser with lists of required materials and step-by-step guidelines. Every method has been brilliantly illustrated with the help of more than eighty-five of today's hottest street-inspired painters, illustrators, designers, and photographers.
Whether visualized in the pre- or post-death stages or at termination, each piece faithfully represents Jones' methodology with incredible energy and originality: In "The Butcher," a Dalek Space Monkey picks up a cleaver to "chop, chop, chop till he can't chop no more," and Cody Hudson's "The Permanent Press" illustrates how two scorching hot irons can make a toasty pigeon sandwich in no time flat.
An exhaustive compilation of execution, Canceled Flight is sure to provide the pigeon-killing technique perfect for you.
Publisher Throckmorton Press
ISBN-10 0976141604
ISBN-13 9780976141600
Format Trade Paperback
Publication Year 2005
Language English
Dimensions 8in x 8in
Weight 27.8 Oz
Illustrated Yes
Conditon: Good/Read
Copyright Date 2005
Author A. V. Jones
Number of Pages 230 Pages
---