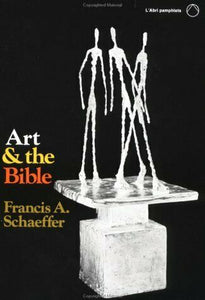 Art & the Bible by Francis A. Schaeffer, Paperback Book
Regular price
$10.00
$0.00
Unit price
per
Much modern art, like a Giacometti sculpture, portrays man in alienation, loneliness, despair. Was art always like this? Must it always focus on the lostness of man? Dr. Francis A. Schaeffer, a theologian with a deep interest in the arts, shows how the Bible records the use of various art forms in the Old Testament times. Then, turning to the contemporary scene, he suggests eleven perspectives within which a Christian view of art can take shape.For the Christian the arts can be a source of joy, a symbol of the creativity that marks the mannishness of man, man himself being made in the image of God the creator. For the Christian artist the sky is not the limit. Because he can distinguish between reality and illusion, he is the one whose imagination can "fly beyond the stars."
The lordship of Christ should include an interest in the arts," writes Francis Schaeffer. "A Christian should use these arts to the glory of God, not just as tracts, mind you, but as things of beauty to the praise of God." Many Christians, wary of creating graven images, have steered clear of artistic creativity. But the Bible offers a robust affirmation of the arts. The human impulse to create reflects our being created in the image of a creator God. Art and the Bible has been a foundational work for generations of Christians in the arts. In this book's classic essays, Francis Schaeffer first examines the scriptural record of the use of various art forms, and then establishes a Christian perspective on art. With clarity and vigor, Schaeffer explains why "the Christian is the one whose imagination should fly beyond the stars.
Publisher InterVarsity Press
ISBN-10 0877844437 ISBN-13 9780877844433
Format Book, Paperback
Publication Year 1973
Language English
Dimensions Weight 32.1 Oz 
Author Francis A. Schaeffer
Number of Pages 63 Pages 
This copy has been read, but remains in good/fair condition. Pages are intact and are not marred by notes or highlighting, but may contain a neat previous owner name. The spine remains undamaged.
---