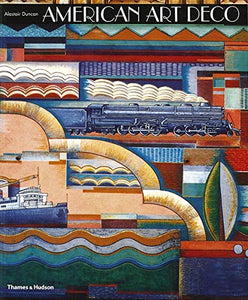 American Art Deco Book
Regular price
$17.00
Sale price
$34.95
Unit price
per
 Art Deco was the most important decorative style of the late 1920s and 1930s, and its expression in America was seen in virtually every area of the fine and decorative arts: architecture, sculpture, furniture, textiles, ceramics, silver, graphic arts, and jewelry.
This splendid book explores the indigenous tradition of Art Deco in America and, in over 500 illustrations, reveals the beauty and extent of the style as it was manifested here. Most of the important buildings, in all parts of the country, were embellished with strong Art Deco themes. William van Alen, Ely Jacques Kahn, and Joseph Urban, among others, created some of the most memorable architecture of the century: the Chrysler Building and Radio City Music Hall in New York; the Union Trust Building in Detroit; the Richfield Oil Building and the Pan-Pacific Auditorium in Los Angeles. Furniture, whether in homes, offices, restaurants, or nightclubs, was revolutionized by Art Deco's modernist stylizations (including the uniquely American skyscraper motif), and American designers from Paul Theodore Frankl to Donald Deskey to Russel Wright to Walker von Nessen created sofas, screens, and dressing tables in the Art Deco spirit. On radios, book covers, fabrics, automobiles―the influence of Art Deco abounded.
This beautifully produced volume brings American Art Deco to life with illustrations of objects ranging from cocktail shakers to the Trylon and Perisphere of the 1939 World's Fair in New York. Alastair Duncan, an internationally acknowledged authority on Art Deco and Art Nouveau, and author of many books on the subject, has written the definitive volume on the American interpretations of one of the most successful design styles of the century. Illustrated in color and black-and-white throughout
Author: Duncan, Alastair
Color: Multicolor
Edition: New Ed
Binding: Paperback
Number Of Pages: 288
Details: Used/Good Condition
Publisher: Thames & Hudson
Release Date: 01-05-1999
Package Dimensions: 12.0 x 10.4 x 0.7 inches
Languages: English
As good a treatment of this subject as one could ever hope for. -- Los Angeles Times The quality of objects chosen for illustration is outstanding: photo captions are concise and provide all technical information. . . . A broad and ambitious survey. -- Choice [A]n excellent, well-illustrated book... -- Interior Design, August 1999 About the Author Alastair Duncan was for fourteen years associated with Christie's, New York, latterly as a Consultant. After joining the auction house in 1977, he organized and catalogued a great number of sales devoted to Art Nouveau and Art Deco and nineteenth-century decorative arts. He has acted as guest curator for exhibitions at the Smithsonian Institution, Washington, D.C., and is now an independent consultant specializing in the decocrative arts of the nineteenth and twentieth centuries. He is the author of many books, including Art Deco Furniture, Art Nouveau Furniture, American Art Deco, and Masterworks of Louis Comfort Tiffany.
---