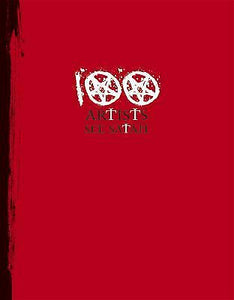 100 Artists See Satan by Mike McGee - Book of Devilish Dark Art
Regular price
$66.00
$0.00
Unit price
per
100 artists showcase their conceptions of the world's all-time favorite bad boy, Satan, in this subversive response to the popular traveling exhibit ' 100 Artists See God' . As the popularity of angels arises, so does their oversaturation in the art world. This is a tongue-in-cheek balancing of the cultural phenomena of angels: 100 devilish works of art, sincere, irreverent, and parodic.
Features the art of: Mark Ryden, Robert Williams, Don Ed Hardy, Sandow Birk, Shag, Frank Kozik, Ed Ruscha, Rick Griffin, The Pizz, Alex Gray, Dan Clowes, and R. Crumb, just to name a few.
Condition: An unread copy in excellent condition with dust cover is intact and clean pages not marred by notes or folds of any kind.
Publisher
Last Gasp of SAN Francisco
ISBN-10
0867196661
ISBN-13
9780867196665

Product Key Features

Format
Paperback
Publication Year
2015
Language
English

Dimensions

Weight
29.9 Oz
Width
6in.
Height
1in.
Length
9in.

Additional Product Features

Dewey Edition
22
Illustrated
Yes
Dewey Decimal
704.9/487
Copyright Date
2005
Author
Mike Mcgee
Number of Pages
128 Pages
Lc Classification Number
N8140
Publication Date
2015-02-25
---