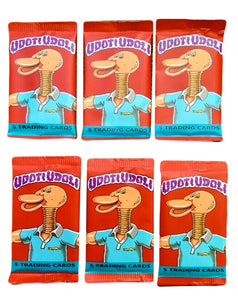 African Garbage Pail Kids Udoti Udoli Fan Set Knockoff Zulu Gang Bootleg GPK Black Market Trading Cards
Regular price
$64.00
$0.00
Unit price
per
Black Market Trading Card Company's African Udoti Udoli GPK fan set produced by African Warlords and distributed by Nigerian Scammers. This 30 card set comes in 6 packs and contains the entire Udoti Udoli Fan Set.
6x Unopened Packs. 

Complete 30 Card Set
Fan Set 7 / Black Market Fan Set 1 / BMFS1

Year of Release: 2017
Language: Zulu
Name: Udoti Udoli
Number of cards: 30 Base Cards, 1 Bonus Card, 1 Header Card (Jumbo Pack Option)
Extras: 1 Bonus Card (B1) (Checked-out Chet) ** Hand numbered and limited to x/100
Number of sets produced: 200 (100 of each packaging style)
Notes: Fan Set 7 came with two different packaging options.  The first option consisted of six cello packs, 5 cards per pack with a piece of gum in each pack.  The second option was a cello 'Jumbo' style pack that had all 30 cards and a header card wrapped in clear cellophane.  The header card featured Ada Bomb.  100 sets of each packaging style were produced.
---